Cool Camping Promotion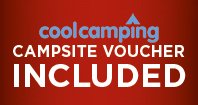 Free Cool Camping £50 Voucher
Congratulations on the purchase of your Coleman Driveaway Awning.
To receive your £50 Cool Camping Voucher, please complete the information in the form below and upload a photo or scan of your receipt of your purchase, please ensure that the awning model and retailer name are both visible.
Please ensure that all details are correct as your voucher will be emailed to you directly within 14 days of submitting the form.
Terms & Conditions
- Applicant must be 18 years or older
- Only redemptions with a home address in the UK (excluding Northern Ireland) will be valid
- The offer is exclusively valid with the purchase of one of the following Coleman awnings: Journemaster Deluxe Air M, L or XL
- Coleman UK Ltd reserves the right to cancel or amend the promotion and these terms and conditions without notice due to any event outside of its control
- No cash alternative to the £50 Voucher will be offered
- Only one redemption per household
- Your £50 Voucher will be emailed to you within 14 days of submitting the above form
- The Voucher will only be valid for 365 days from issue date
- Any personal data will be used solely for the purpose of the promotion herein and in accordance with current UK data protection legislation. You may consult our Privacy policy on the website here: https://privacy.newellbrands.com/index_en.html The Privacy Policy outlines the information that Newell Brands may collect and in which conditions Newell Brands may use that information
- Skookum Marketing Solutions, 45 The Aztec Centre, Aztec West, Bristol BS32 4TD, acting as a processor under relevant data protection rules and regulations, will retain personal data for the purpose of redemption of this promotion and will not retain that Personal Data for longer than is necessary (in accordance with applicable laws)Offer closes 31st October 2022. Any submissions after this date will not be fulfilled
- You have a right to access, modify or remove your personal data by completing the following form: https://privacy.newellbrands.com/data-subject-request-form_en.html . For any complaints, questions and/or the exercise of rights, you can contact (i) Coleman local customer service team at Coleman UK Ltd, The Courtyard, Wraxall Hill, Wraxall, Bristol, BS48 1NA infouk@newellco.com or (ii) our Data Privacy Committee here:" https://privacy.newellbrands.com/data-privacy-enquiry-form_en.html . You also have the right to contact the data protection authority that is competent for your place of residence or the lead supervisory authority for Newell Brands, namely the Information Commissioner's Office of Wycliff House, Water Lane, Wilmslow, Cheshire SK9 6AF, United Kingdom, www.ico.org.uk To the extent permitted by applicable law, our Company shall not be liable under or in connection with these terms and conditions - and your application - for any indirect, special or consequential cost, expense, loss or damage suffered by you even if such cost, expense, loss or damage was reasonably foreseeable or might reasonably have been contemplated and whether arising from breach of contract, tort, negligence, breach of statutory duty or otherwise
- In the event of unforeseen circumstances beyond our Company's reasonable control, we reserve the right to cancel, terminate, modify or suspend these terms and conditions, either in whole or in part, with or without notice
- These terms and conditions are governed by English law and subject to the exclusive jurisdiction of the English courts